In 2008 I joined a small start-up on the Oregon Coast focused on providing engineering consulting services. I brought my prior experience with renewable energy and marine technology and through Advanced Research Corporation pursued more locally based business in these areas. I won a contract with Oregon Wave Energy Trust to conduct a gap-analysis of infrastructure in Oregon. With my expertise I was also able to secure business with the local research facility, Hatfield Marine Science Center, first through the Pacific Fish Trax project and later with Project CROOS.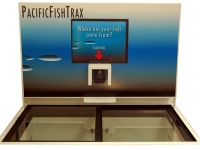 I designed, built and tested two interactive kiosks that were placed in Portland Oregon stores as part of a seafood pilot program for the Oregon State University, Seafood Consumer Center, and Oregon SeaGrant. The kiosks allow a user to scan a product bar code from a piece of fish and watch a short informational video on the history of that specific fish. Afterward, the user is presented with a brief survey and the answers and other usage statistics are stored in a database for later analysis.
Phase-Net is a product of Venture Ad Astra that attempts to provide node-based positioning and time calculations over long distances via radio transmitted time-stamps. I developed a set of step-by-step test procedures to verify and validate system and specification requirements in accordance with US Air Force Research Lab funding requirements. In coordination with the client I developed a test environment that could position each of the nodes to sub-centimeter precision.
Global Navigation Satellite Systems
I had the opportunity to work on a number of different projects involving Global Positioning System (GPS) and Global Navigation Satellite System (GNSS) technologies and policies. These ranged from providing technical expertise for patent and legal cases as well as working on the National PNT Architecture that is being coordinated by the National Security Space Office to plan how the United States government can provide the necessary positioning and timing services over the coming twenty-five years. I also designed and implemented an internal GPS and GLONASS (aka Russian GPS) data collection system that monitored and logged operational performance.
In 2009 I co-presented the Coastal Infrastructure Assessment poster at the Ocean Renewable Energy Conference IV. This poster highlighted the progress to date of the Wave Energy Infrastructure Assessment in Oregon.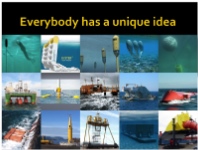 In early 2010 I gave a public presentation of the various forms of wave energy device technologies to the Lincoln County Technology Solutions Alliance. The talk featured a look at the different types of technologies being developed world-wide to harness wave energy and how those impact the surrounding area as well as some of the issues and challenges facing the field.
In 2009 I co-authored a Wave Energy Infrastructure Assessment for Oregon sponsored by the Oregon Wave Energy Trust. This assessment is a gap analysis of the existing infrastructure and the projected infrastructure needed. It concludes with a set of recommendations to help companies, the state, and other planning bodies meet future needs.
Project CROOS Web Application and Database
Following the resounding success of the Pacific Fish Trax kiosks I was asked to design and implement a web application and online database for the science for Project CROOS–a project that aims to unite science and salmon fishermen to save salmon stocks and the fishermen who depend on them. The web app and database allows different research laboratories, fishermen, and fishery managers to access real-time data and collaborate in a meaningful way.