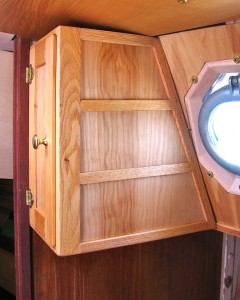 Before the Vancouver Island trip, I installed a number of cabinets in the head. The one that caught everyone's attention was a small one mounted to the bulkhead to hold shampoo, toothpaste, and a few other items. It was not a large cabinet but has proved immensely useful over the past couple of years. It provides a storage place where before there wasn't one, utilizes a corner of space on the boat that otherwise would have only provided a sense of openness, and provides a central location for a number of toiletries that otherwise were homeless in an already crowded boat.
Installing this previous cabinet had instilled a sense in me that I could make cabinets, regardless the shape and size, for the boat. These early cabinets were going into locations that had sloped dimensions or curves in single dimensions for the most part. I could approximate any complex curves and challenges present in these early cabinets and make them fit reasonably well.
Fast-forward a bit and pretty soon we were looking around the boat for other unused corners and nooks that could be improved with a cabinet or other storage device. The v-berth immediately caught our attention as its shape, being defined by the hydrodynamic requirements of a boat, does not lend itself well for a sleeping location. There is too much space where you do not need it, and painfully not enough where you do need it–two pairs of feet are crammed into a point while the head of the bunk is wider than a king mattress.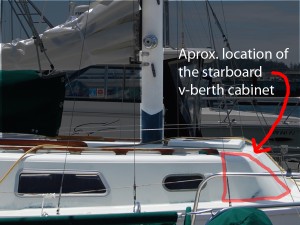 The cabin top begins at the aft end of the berth, providing just enough space to sit up fully with your back against the bulkhead and stare at the wall immediately in front of you.
Realizing that we never used this space visions of two cabinets located there began to be floated around. The idea soon found its way to our boat project list, not because it would be easy but rather because it solved a few different issues. The largest issue to Emily and others that have come aboard is there is a distinct lack of places to put clothes and be able to easily access them–duffel bags under seats are a poor substitute for a dresser. To me this solved a problem that I had been unable to find a solution for, how to finish the insulation project in the v-berth. In most places throughout the boat I had installed foam and covered it with 1/8″ veneer plywood–door-skin material–but the complex curves had made this impossible in this area.
While installing a cabinet in this area would solve the above problems, it created its own set of problems. The reason the insulation project had failed there was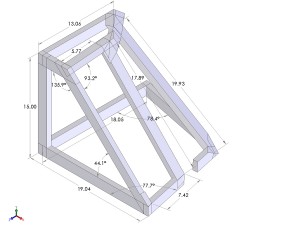 the complexity of the location. Adding a cabinet to this location did not solve this complexity, rather it made it harder. An afternoon was spent with squares, tape measures, and protractors measuring the space. Numbers were written down on a pad of paper, checked, and re-checked before we went home to start the design. I soon realized that this was far too complex for me to attempt in my head and resorted to starting up SolidWorks, a CAD program, to help. No sooner had I started than I found the measurements we had taken could not possibly work. When the CAD program computed the geometry, either some of the lengths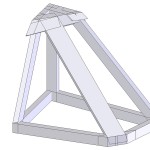 or angles were incorrect–not a surprising finding given the difficulty in measuring a small 3D space with basic tools. While wishing for a 3D laser scanner I made a list of guesses on which measurements where most likely incorrect and finally had a model that worked!
Taking these models and making the actual frames was the next hurdle to overcome.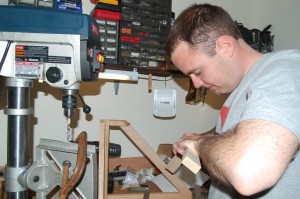 I started with my handy Jorgensen miter saw and soon realized that this project was far beyond its capabilities, I needed a saw that could make complex cuts quickly and accurately. After acquiring one and a drill press to aid in the dowel joints, I was underway.
As with the previous cabinets I made a frame out of oak 1×2's and routed a grove in them to hold the door-skin plywood panels. After gluing everything together, this forms a light, solid cabinet that has held up well on the boat.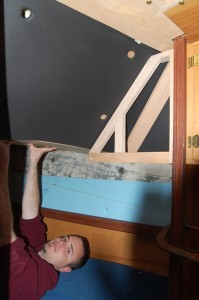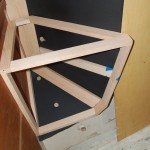 Remembering that assumptions had to be made in the CAD model, checking the fit of the unglued frames was in order. With tolerances on the order of a 1/16″ everything fit exceedingly well. There is a small gap at the top to aid in ventilation of the cabinets, the sides fit snugly against the foam, and the bottom was right where I had intended it to be above the bunk's occupants.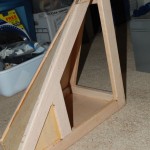 After installing the plywood panels into the frames and gluing it all together, the doors were installed and the wood was given a protective coat of teak varnish to match the rest of the wood in the boat.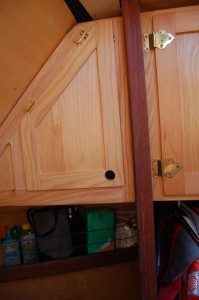 The last step was to bolt the finished cabinets to the bulkhead and start using them.
So far the port side cabinet has proved to provide a great deal of additional clothes storage. The starboard one fits the first-aid kit, seasickness remedies, and other medical supplies. Neither cabinet has negatively impacted the v-berth's sleeping duties and at some point in the future may provide a great mounting location for better LED lighting above the bunk.