Every once in a great while, for special occasions, such as being within reach of landfall, Jed and I like to get off the boat. Perhaps surprisingly, it's not for space or for lack of activities aboard. Jed and I both are incredibly well adapted to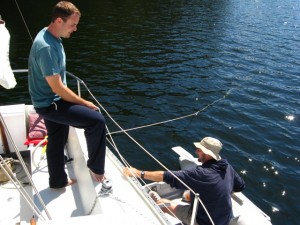 living in small spaces. What we seek in our shore excursions other than food and supplies is usually exercise. Judging by the muscle aches and pains that tend to sneak up on us our first few days aboard and that slowly dissipate after a week or so, simple day-to-day life on deck requires enough complex balancing and maneuvering to keep us in relatively good shape. However, as I've found after having to stop for breath every mile or so of walking along flat
terrain on my way to work after getting home from our 2007 circumnavigation of Vancouver Island, physical endurance is hard to maintain. It wasn't for lack of trying.
There were evenings when we came in late to an anchorage and, not having a dodger, were so tuckered out from windburn, cold, or seasickness that we would have no desire to put forth the effort required for a shore excursion. However, on many occasions we would have been very eager to explore some of the shorelines we had spent weeks drifting past. Unfortunately, Vancouver Island does not offer many such opportunities.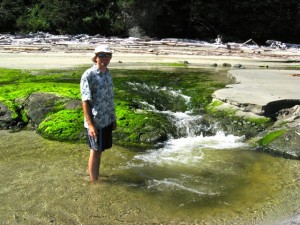 On one of our most fortunate expeditions in Columbia Cove, south of Brooks Peninsula, we were able to spend an entire day ashore playing on an open sand beach, bathing in a warm stream, or climbing the nearby rocks and tide pooling. The trek out to the beach was a bit like scrambling through the set of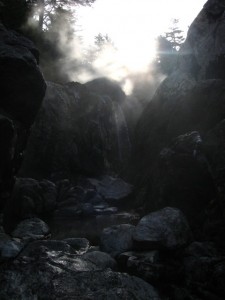 Jurassic Park, but we'd been on treks similar to this earlier on in the trip with must less rewarding trail ends. Most other successful expeditions took place in towns or manicured parks, such as the hot springs near Tofino.
One of the major problems seems to stem from the extensive logging that had taken place, allowing thick undergrowth to take over the shorelines. Once or twice, out of desperation, we decided to forge our own trail ashore where none was listed in the guidebooks. We were literally sprung back by this thick barrier. Barry timed one such attempt from a more comfortable vantage point and found that Jed and I had made it roughly 15 feet inland over the course of 45 minutes. That evening was spent nursing our war wounds and searching the guidebooks for the next record of a trail.
We found lore of a lake that could be reached from Queens Cove. From our previous experience of shore bound expeditions and deviations between the guidebook descriptions and current conditions, we remained skeptical. We spent three days total anchored in the cove due to weather, but spent the first day on deck reading and baking and playing games before Barry bravely rowed ashore to explore our surroundings. Following his lead and directions and the charts we had of the area, Jed and I went in search of this Holy Grail for ourselves.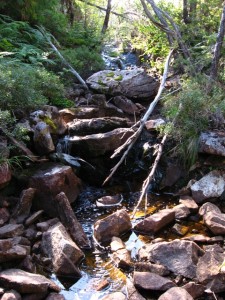 We indeed found the riverbed described by our predecessors, and clamored up through the stream and overhanging brush that nearly blocked our way. Next, we came across a more or less open meadow area on the side of the hill we were climbing. The ground was covered in a thick moss with all the properties of quicksand other than the sand part. If we were not careful to skirt around the edges along tree stumps and roots, we found ourselves sinking further and further into the moss. Somehow, even when I miss-stepped and sunk shin-deep, losing a shoe, it was dry moss through and through, even at those depths. It was one of the strangest areas I have ever wound up in.
When we managed to cross this valley and make it to the ridge, the sound of trickling water led us over a rocky ledge where we came upon a flowing stream that pooled into a series of lakes. The first lake was large enough that we could swim out to an island in the middle that, although only about 20 feet in diameter, was steep enough that it was hard to balance on its edge, and it rose about as high from the water. Clambering over more moss and grass covered rocks on the far end of that lake, and following the stream a ways further through the sparse trees, we came upon another pool, then what must have been the much larger lake. From our vantage point, we could only see what may have been the end of it.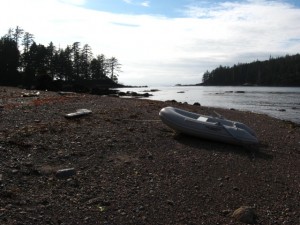 Barry had indeed made a valuable find, but these, unfortunately, about sum up the number of times we were able to do much hiking ashore other than in towns trekking up paved hills on supply missions (and some hikes in the park during our extended stay in Port Hardy). Many of our other would-be attempts were stopped short due to currents or wildlife. Even a strong oarsman can't compete against much of a current in our inflatable, which we endearingly refer to as Swampy. Strong oarsman or not, none of us felt particularly inclined to wind up on shore alongside the bears, which regularly showed up on the beaches at sunset to feed.