Cutting the Real Material Continued
Over a number of projects we have had the chance to try different fabrics, from cotton canvas to sunbrella and beyond. Luckily for us, this was not our first introduction to sunbrella or other similar heavy acrylic canvases. These materials are heavy, nearly impossible to pin and require some special tricks. But on the good side they hold up well, lay flat to sew, and have little stretch or shrinkage.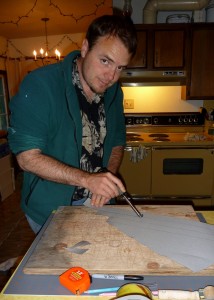 If the material is cut with a hot knife then there is no unraveling along the edges. Great, unfortunately commercially made hot-knives are $150+. So instead I installed a flat cutting blade (a piece of copper trimmed to shape) by screwing it onto the hot end of a cheap soldering iron. $10 later we have a slow but effective hot-knife. I have found this infinitely better than cutting with a good pair of shears or rotary cutter and then heat sealing the edge later.
Cutting the window material was not difficult. Unrolling the material was the hardest part, especially considering how tight of a roll it comes from Sailrite in. We took extra care to avoid scratching it, in hindsight this was probably excessive.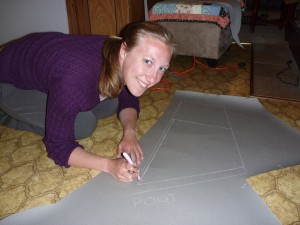 We went to great lengths to transfer all the extra labels from the pattern to the material. Having a good pattern to work with was key throughout this entire project. The Dura Skrim 2 pattern material was wonderful to work with, providing a pattern that didn't stretch and was easy to work with.
Sewing the Parts Together
Utilizing a sewing machine that was built before WWI might be considered a hindrance. But this beauty of a machine still seems ready to tackle any job we can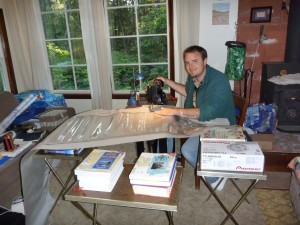 think of, regardless of the material, number of layers, or century it is working in. While the price and ability have been faultless the machine isn't without a few nit-picking issues. First it has no reverse. It goes forward, period. Second it only sews a straight stitch, although it can alter the stitch length. Third, it sews far faster than I can think much less react since it is powered by a clutched continuously running 1/3 hp motor–and I bet you thought it was foot powered…
When using a fabric like sunbrella do not bother with trying to pin the material together. It doesn't work, it really doesn't. Pins bend going through it, sewing machines bulk going over the pins if you can get them in, its just not good. So instead there are two options we have found, use double-sided basting tape, or a home stapler. Both work, both have advantages and disadvantages. The tape is left in place, adds to the water resistance and works well on long straight runs. But even the extra sticky stuff doesn't really stick that well to the material. Sure it sticks to everything else, your fingers, the floor, the window material, etc., but not the sunbrella material. The staples on the other-hand grip well but have to be removed and sometimes still result in one side of the material puckering on long straight stretches.
Having two people through this project, and at time three, really helped. For the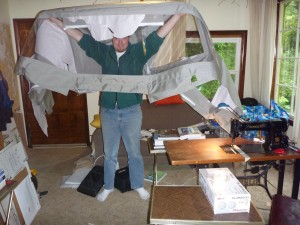 simple sewing jobs one of us could be cutting or basting the next piece together while the other was sewing. For the larger pieces, it often took two of us to feed it properly through the sewing machine. Towards the final seams, there were six or more layers of material and nearly all of the fabric to feed through, a task that would be nearly impossible without a flat table surrounding the sewing machine and two people to help feed. But in the end, it was not as hard a process as we had feared.
Trying Out the New Dodger
It was not without some hesitation that we took the completed dodger skin down to the boat to try it out. Fear that somehow the pattern was wrong or we had mistakenly sewed the wrong parts together had crept into our thinking. But none of these were founded and everything fit beautifully over the bows.
Now it was time to install all the fasteners that hold the front and sides of the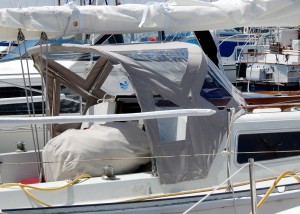 dodger down. We were fortunate here in that Jerry, our local dodger expert at the marina kept us from using the fasteners and providing us with additional fasteners than what Sailrite ships with the kit. Sailrite sends out nickel plated brass fasteners which hold up well below decks and are cheaper, but above decks we were strongly urged to use stainless steel ones, that bought through outlets other than Sailrite were even cheaper than the brass ones.
The other strong suggestion was to not use the common-sense twist style fastener but instead use lift-the-dot ones for the high load deck snaps where the button fasteners were not enough. The common-sense ones we now understand also do not hold up well in exposed areas and are more prone to mechanical failure than the simpler lift-the-dot ones. Once again, we sourced these elsewhere and were amazed at how cheap they were.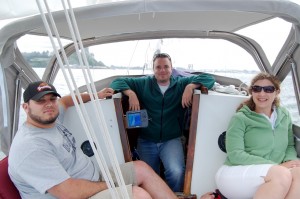 After the snaps were installed, the aft rods tightened, and everything was given a once over we sat back in amazement.
IT HAD WORKED!
And not only had it worked, but it looked good, blocked the rain and wind, and had been completed with only our skills and comments from those wandering the marina.
Final Comments
The style we choose was closely based on the instructions from Sailrite. Talking with others, Jerry among the lot, advantages of making more of a bimini and detachable side curtains may have suited us better in the long run. The changes could still be made to our existing one and may at some day in the future but for now it is of a one-piece design with its limited options–fully on or off.
Side handles and stiffening/tightening rods are essential for rigidness and ease of use walking around such a large dodger. I would strongly recommend against the simple tightening straps because the added rigidity is very comforting as the boat pitches around.
Placing leather or vinyl in places where you are likely to grab the sunbrella or areas that things such as the main cover might rub on it would have been a good idea. This being our first one and having forgotten to order the extra material we did not do this step. We may be adding these protective pads in the future to this one.
The other area in which future work will be required is aft curtains. We bought the material and installed zippers with this in mind. However, we have not yet built these curtains. We do understand though that these can add a great deal of additional protection and living space, especially in winter, and allow for much greater ventilation below decks in the pouring rain.
Was it Worth It?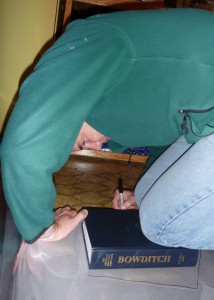 Not having taken a long trip with the dodger yet, and only using it around the bay and briefly out in the ocean we can both say yes, defiantly yes. It makes the cockpit so much more inviting, warmer, and drier. Wind chill and exhaustion are greatly reduced as is the need to constantly wear foul-weather gear while on deck. Sitting behind plastic and cloth, watching the weather throw its might at you and miss is wonderful. We now just have to remember not to become too complacent and forget the boats limitations while we're warm and dry under the dodger.