Northward Westward, Ho!
We started out the summer frantically readying Quagmire for a trip North, towards Alaska.
Sailing has been an integral part of our lives, and we have devoted years (really, solid years) of our time and salaries refurbishing an old fixer-upper sailboat that fortunately had a solid hull and a lot of soul.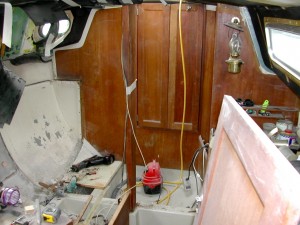 We replaced bulkheads and seat boards, the head, the electronics, deck hardware and the upholstery. We insulated the hull, built a new galley and propane system, lighting and cupboards. The list goes on and on. Inevitably, we made the fatal mistake that almost every first-time boat owner makes. Now, we're attached. Hooked, gaffed and on ice in the hold. When really it would make logical, financial, and rational sense to sell the boat, and move on with our lives – to have a savings again, to be able to go camping again or travel the world without the nagging guilt of leaving behind the boat, or even to be able to live where we want without having to shop for moorage before looking at rental homes – when that would probably be the "right" thing to do, we just can't bring ourselves to walk away.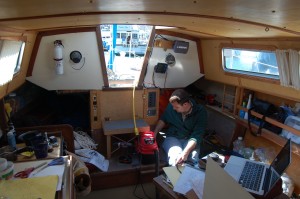 We know enough to understand the price we have to pay for our human weakness. Boats don't handle neglect well. No matter how carefully you "winterize", every month that a boat sits alone in the water does the amount of damage that one would expect from a decade of misuse. It really is unbelievable. If we want to get any respectable fraction of our investment back, we need to actively use it until the day it sells (heaven forbid we should ever part ways).
We have also learned that Newport is not the ideal place to have a boat if you want to actively use it. One can travel up the river, and anchor for a while, or if the weather is good, one can go out for a day sail or fishing on the ocean, or maybe North or South a day sail each way to another inlet, but the options for short trips are severely limited and much less enticing than what was available to us having the boat within easy reach of the Puget Sound, San Juan Islands, and Vancouver Island.
The longer trip options are much more enticing: Mexico, Hawaii, or back North. In order to avoid having to sell Quagmire for another year, and since we obviously haven't been as motivated by the shorter duration trip options to upkeep her in offshore condition, and since there are few opportunities in life to be able to take extended vacations, we decided that we had better commit ourselves to taking Quagmire on one of those longer trips so that all three of us could stretch our sea legs and remain active sailors. We decided none of the three of us were quite ready for Hawaii, and that if we went South, we would never make it back. Thus, we decided to sail North. We picked Glacier Bay as a northernmost goal, but decided that we would also be satisfied going wherever the wind took us, and that if we got caught up exploring more of Vancouver Island or other island groups, that we would still be more than satisfied with ourselves.
In the early spring, Jed spent many days and thousands of dollars scrutinizing over how to order the parts and supplies we needed for outfitting without spending another thousand dollars in shipping fees. This is a challenge of no longer living in the city where gear is readily accessible at nearby stores. Things rolled in over the next few weeks, filling our living and bedrooms with parts, but due to Jed's foresight and planning, everything came in in plenty of time to be fabricated and installed in time for our July 1 departure goal. Well, almost everything…
In the meantime, we also worked hard at being productive at work and softening up our bosses for the blow of us each taking a three month vacation. Jed was less successful at this than I was, but since he was considering starting at OSU in the fall or otherwise making a career change, he was able to quit his job with no hard feelings. I was somehow able to talk my boss into letting me take summer quarter away from school and to still (I presume) have a job when I get back (which my boss presumes I am doing…).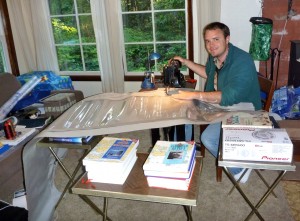 Jed's two week notice ended a bit before finals week, so he got a running start on organizing and tackling our projects. When I got back home with my suitcase and school books, he was well into it. The living room, kitchen, dining room and both bedrooms were filled with tools, wood pieces, metal, fabrics, paints and oils, and miscellaneous travel books and fishing and safety gear. I jumped right in, and soon we each had our own tablet of lists going and four or five running projects at a time. We were a couple of days late wrapping up the dodger project, but it allowed us to host some friends for the 4th of July before the cat-sitter moved in. But, with the dodger on and the boat almost ready for the trip, we still had no mainsail.
Back in the spring, when Jed was ordering bits in advance, he had called around to different sail makers to get us a new mainsail since our old one was torn and aged and having a dependable mainsail is pretty crucial for sailing. Given our do-it-ourselves mentality, this was the first project other than having the boat hauled out that we had hired out, and our single largest investment to date. We were quoted that the sail could be done by June 16th. On the 9th of July we drove out to the sail maker's loft to watch it being finished, and got to hand stitch in a couple of slugs and learn a bit about sail making and repair in the process. We excitedly hauled it back to Newport and laboriously installed it the next day.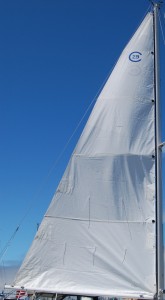 As it had been for about the last two weeks, there was wind gusting to 25 knots through the marina by about 11 AM, so we had to turn the boat into the wind and fight the gusts to install the battens and to raise the sail to check the fit. It was a bit of a struggle to see the fit without straining the docks lines too hard or heeling, as boats are wont to do with a full main raised in 25 knots of wind, but we were enthusiastic to show off and test our newest improvement.
To our great dismay, and the dismay (or entertainment) of half of the marina, the sail didn't fit. It had a gorgeous curved-wing shape and the full-battens were very impressive, but our hearts sunk lower and lower into the pits of our stomachs as we saw that there were multiple issues that we wouldn't be able to fix or work around. The two top battens hit the back stay every time the sail came across, it was too tall and too long and there were creases emanating from the corners where the fit was slightly off. If we had tried to ignore them and sail with it, we wouldn't be able to raise it fully or rig it quite properly, and the top two batten pockets would get shredded quickly by the back stay. To test it, we went out in the bay with some friends, and sailed with it reefed so that it fit. Our reefing points needed to be modified, but otherwise the shape of the sail with the full-battens and the performance were fabulous with one reef.
When we got back in, we flaked it, moped a while, then sent an explanatory e-mail with images to our sail maker. Our spirits were bolstered when the sail maker got back in touch with us immediately and offered to come out the next morning to look over the sail with us and see what could be done.
In another 25 knots of wind, we raised the sail together. We went over how having a pocket at the bottom was intentional, but it was bigger than it should be. We discussed how the sail was made to be rigged, where adjustments could be made so that it would fit, and the adaptations needed for the reef points. The three of us also took it out in the bay, with the full main, to observe its performance. Since Jed and I in the meantime, while waiting for the sail, had fallen back into the habits of dock life, the boat wasn't quite ready for 25 knots gusts with a full main, and when we hit hard a bottle of beer exploded all over
the carpet in the cabin. After the sail maker and our new sail left, we took out the carpet and spent the next two days washing the boat from top to bottom, killing time until the end of the week when we were eager to set sail – two weeks late, but in the sailing world, that's right on time.
Sail making, we understand, is an iterative process. We were initially planning on these iterations taking place throughout the end of June, and not to be cutting into precious days of the sailing trip which we had made so many sacrifices to take. During the summers on the west coast, the winds settle in from the north, which "drive" (as a physical oceanography student, just a short while ago I spent hours in the classroom learning about the complex dynamical coastal processes that interact to develop these recognizable patterns, but here I will be brief and sum it up with this one clumsy word) coastal upwelling.
Much smarter sailors head for Mexico at this time, traveling with the winds and currents and swell, making for a much quicker and more pleasant journey. As a result, if you're ever inclined to buy a boat (I highly recommend convincing a friend to do this for you), there is no shortage of boats for sale, for cheap, whose owners chose to fly back north rather than take on the challenge that we propose here – sailing north in the summer. When our sail came back, an extra day late due to parts that needed to be ordered, we wrestled against the wind to reinstall it and raised it hopefully yet again. We were crushed by the results. The head had been shortened and the headboard lowered, but the right grommet wasn't hammered in enough to fit our shackle, so we raised in from the aft grommet instead. The two panels of the leech that had been trimmed to fit below the back stay now no longer had the gorgeous shape that we had been so excited about, and there were more creases coming from this area. The sail was even longer on the boom, after we had thought it was too long originally, and the reef points were still a problem. We were dismayed that the sail no longer had the beautiful wing shape, and that it would not be likely to be able to get that back with further adjustments. It was disheartening and frustrating to have to decide whether we wanted to send the sail back and wait for further adjustments, or if we wanted to cut our losses, raise the old main, and just take our trip.
On the logic that it was such a large investment, and that we had already waited, we decided that a few more days wouldn't kill us. Besides, I had gotten an interview offer for a scholarship that I was going to take over-the-phone, but it would be nice to stay in town for it.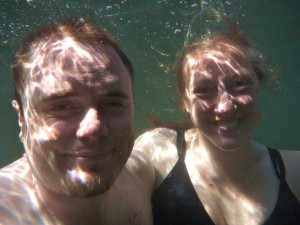 While the sail was back in the shop, we went inland to Moonshine County Park and went swimming in the river and spent some time in the sun, eating watermelon and feeling like it was summer. Although it was hard to go into town and have to explain, when we kept running into friends, why we were still here and not off sailing, we did enjoy the colorful world that is marina life, and tried to act as much as possible as though we were on vacation and not trapped in a purgatory of sorts.
Sometime near the end of July, we got our sail back and up for the third time. We weren't very hopeful for it, but we were willing to settle for what we got if it would get us underway. The sail maker was kind enough to work with us and make adjustments, and, in order to encourage us not to lose our trip over the more petty modifications, promised to keep the sail under "warranty" and continue making adjustments for us when we got back if we just wanted to use the sail as is over the summer. Unfortunately, over the three weeks we had waited on the sail, the summer winds had settled in, without rest, kicking up a large swell that had kept other cruisers wanting to head north at dock, even without sail issues.
Back when we had still been more hopeful for the sail, we passed up a few "weather windows" that would have made sailing north much smoother and quicker. By now, it was mid-summer and the winds and swells, although shifty, had barely subsided for that last three or four weeks. Although there were some days that were nicer on the ocean than others, when we popped our heads out for one of these breaks, Jed and I still got rather ill very quickly and didn't look forward to it picking up after the lull. It was also very foggy many days, which is hugely unnerving for us. Leaving from Seattle was always a bit easier because we had a couple of days without swell to get our bearings and sea legs. By the time we ever made it to the swell we would be much better adjusted. Even so, we knew that the shifting wind direction was causing much messier seas and greater wind chop than we had had to bother with on previous trips out. Even though we knew that this really would be a much more uncomfortable trip, and much longer than we could have managed if we had left in the earlier weather windows, we both felt a nagging guilt that we were just psyching ourselves out because we had been at dock for too long.
Meanwhile, a very good friend of Jed's was getting married that coming weekend, and Jed was supposed to be a groomsman. Originally, Jed was going to fly back from the middle of nowhere northern Vancouver Island to make it to the wedding in Portland. Since we were in Oregon it made sense to again delay the trip by just another few days and drive up for the ceremony. When we got back to the boat, we decided, we would continue to stay at the ready and take the first break we could to head north and be done with waiting and worrying for our big trip to happen.
While we were in Portland, the models were forecasting a big drop in swell over the next week and some light variable winds – even some from the west. As the weekend progressed, the swell forecast stayed low, but the west winds we had gotten hopeful for disappeared. By the time we were back on the boat, cleaning up again for our imminent departure, the weather forecasts were right back up to what they had been, with only slightly lower swell for a few days break.
One of the hardest lessons to learn as a cruiser – especially if you spend most of your time in protected waters – is that you never have to do anything. If you have it in your mind that there are hard deadlines and required destinations, you're the most likely to get yourself into trouble. My first sailing trip was with my grandmother who had a time share with a sailboat, and took a lot of her kids and my cousins out from time to time. Once, the weekend before my aunt and cousin were set to move out to Minnesota, my grandmother took a whole bunch of the kids out to the San Juan Islands, including my cousin, leaving my aunt at home packing. The day they were supposed to sail back, the weather picked up. My grandmother thought long and hard before she made the decision to call my aunt and tell her that my cousin was not going to make it back in time because they were not going to cross the straights that day. My aunt was not happy about this and tried to make it clear that being late was not an option – until she finally came around to realize that, really, it was. And it was the best option for the circumstances.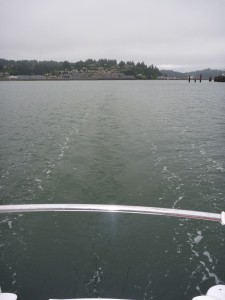 It is one thing to make decisions about the sailing conditions when you have kids or guests on board, but it is a very different thing to make these decisions for yourself. Jed and I had had enough of waiting. We were tired of sitting in town telling people that we hadn't left because of weather, especially when every single person responded by innocently pointing out that the weather was great where they were. We were frustrated of devoting so much of everything we had – money, time and energy – into a trip that just wasn't happening. And, we were aggravated by the nagging feeling that the reason it wasn't happening was because we weren't making it happen. All we needed to do was to untie the dock lines and go. Sure, there were much larger fishing boats that came running back after poking out to try against the conditions in the morning. There were also other cruisers still at dock, facing the same issues as us. But, we were two young and capable people, and we really do have very low standards of living and comfort is rarely a thing to stop us from trying almost anything. So we went.
We said our farewells and alerted the one or two people we were still in touch with and threw patience to the wind. Our neighbor shouted out a parting message as we drifted past his slip: "It's $*$%@ing rough out there!" We knew, but it wasn't going to get better any time soon.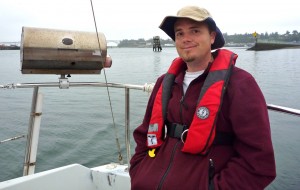 The jetties flew by as we left them behind in our 5 knot wake at 2200 RPM. Jed didn't touch the throttle and he turned Quagmire north around the outermost buoy. It was pretty crummy and confused, but when we turned north it hit us even worse. At 2200 RPM we were just barely making over 2 knots and we were dead into the wind. Going this speed, we would make Astoria in 50 hours, but we can't really afford to burn 50 hours of fuel because we need a safety margin. Raising sail and tacking, we would probably barely make 1 knot, and that's if the wind stayed up. It was looking dismal, but we didn't speak a word about it. After a while, Jed muttered, "we ought to raise the sail." We both braced ourselves there, holding on, and contemplated this idea – as cruisers do. If you ever rush into a sail change, the wind is very likely to change again and you'll have to start all over. If you wait it out, sometimes 5-10 minutes, sometimes 30, sometimes a couple of hours, you're much less likely to have to complete too many redundant tasks and wear yourselves out. Racers are silly and don't understand this bit of wisdom.
Finally, I clawed my way forward. I had been faring amazingly well for my condition, but by the time I reached the mast and took in the situation to plan my next move, I was fully and completely given in to seasickness. I managed to get the sail ties off and the main halyard attached, but when I got the main halfway up, the halyard had wrapped itself around the mast and hooked on our steaming light from getting kicked around so much in the seas. I looked out to the horizon, took a deep breath, and stood up to shake it free before I lowered myself and put the winch handle back in and started cranking it up again. It looked good, and I was making progress when Jed hollered up that the halyard had now somehow hooked itself onto the new track that we had installed for our new mainsail. This is one of the issues that shake-down cruises are good to point out, but these weren't the ideal conditions for a shake-down.
We don't usually use a winch handle that locks in up forward, but this one did, so I let go of it and left it hanging, which I never usually do. I was letting the halyard slack, trying to examine what it was caught on when the surfer's-7th hit us and we went sliding down the face of a large wave. I was just lowering my gaze to grab the winch handle, when I saw it flying right towards my face.
Jed was in the cockpit, barely able to hold on to the tiller and main sheet to steady himself when he heard the blood-curdling scream from on deck. He saw that I was still on deck and still holding on, and without words, we knew each other's minds. He pulled the tiller hard over, and we headed back to port.
I screamed because I didn't know why my face didn't hurt from the blow. And, then when I did know why, I screamed once more out of shock and for good measure. Then, I spit a few bits of tooth onto the deck, put the winch handle away, cleated the main halyard, coiled up the loose lines and crawled back to the cockpit.
Since we had turned around, we were cruising at a steady 7 to 7.5 knots, and we made it back to the dock very quickly and without incident. We quietly retied the dock lines, stowed our gear and filled out the log. After I made my dentist appointment, Jed had a good laugh at me for my missing tooth, but otherwise we weren't in particularly good humor. We pulled the laptop out and scanned travel deals with glazed eyes. Hawaii, Thailand, Mexico, Peru, Europe…nothing we saw was enough to get us in better spirits. Then, there was a knock.
Our neighbor came by. He had a friend, he started out. Since this is how 95.5% of all sailing yarns open, I didn't think much of it. His friend, he continued, had a boat in Seattle but now lived on the East coast. His boat was sitting at a brokerage not selling and he wanted it back. Trailering boats cross-country is not only expensive, but the vibrations are usually very hard on the boat. The owner was toying with the idea of having it delivered. He had asked our neighbor to sail his boat from Seattle down to Central America, through the Panama canal and back north for him. Our neighbor was inclined to take the job, but he needed crew. So he asked us.
Fate seemed to be smiling down on us. What timing! We now had the option of possibly sailing a boat South from Seattle – with the wind, and into warmer waters. We could even get a free ride through the Panama Canal! It wouldn't be our boat, and it would render all of the preparations that we had just spent months on mute, but those preparations already appeared to have been done in vain. We told him that it sounded like great fun to us and to keep us abreast of any developments with the plan.
In the meantime, we decided to take a break from the boat, from all of the projects staring us in the face, from the misfit sail that we had no use for, and from the guilt and frustration of having missed our opportunity. We decided to go up to Seattle and stay with friends for a few days while we regrouped.
While we were in Seattle, we swung by the marina where the sailboat was moored, awaiting delivery. We stopped by the yacht broker's and got to look around on decks and pop our heads inside.
At first glance, it looked like quite the boat. At only 30 feet, nearly the same length as ours, it was taller and beamier than Quagmire, giving it slightly more living space. We were told that the last time the boat had been examined, just a few short months ago, it had been in excellent shape. But a few short months without extensive TLC can alter more than you'd think. Looking into the boat was like staring through a time warp. Our minds both went through a series of flashbacks of all of the labor and projects that we had just been through and then some. The prospect of starting all over and spending another week up to our shoulders in elbow grease curdled the breakfast in our stomachs and dried the saliva in our throats. We weren't absolutely convinced that this boat was going to be going through the canal this year, and we weren't ready to sign up for another project that could very well have an indefinite number of extensions tacked on.
We plopped ourselves down on our friends couch to have a think. We could throw in the towel and go back to work with a bitter taste in our mouths of the summer vacation that never was. But we were both exhausted. Physically and emotionally drained. The summer was supposed to be a unique opportunity for new experiences, but long tireless days strung together end-to-end spent on boat projects was by now an all too familiar thing. What we needed was a distraction and a change.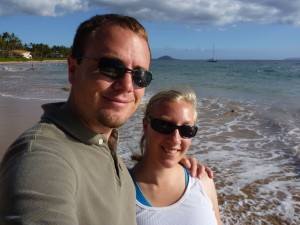 Luckily, we had come to the right place. Our friends had just the ticket for us – literally. They suggested Hawaii, where they had been a few times and had really enjoyed. Despite our lack of enthusiasm or assistance, they played travel agent and found us amazing deals on tickets and lodging and sent us back to Newport to pack with a new sense of direction – west – and, even, accomplishment for having been able to refocus ourselves.
We repacked many of our things, stowed the sailing gear, took down everything on deck and went through the bitter-sweet demobilization with humility. Then we headed west across the Pacific Ocean. Without Quagmire.