10 AM – Got a late start in the morning. Neither of us were used to squeezing our feet into the apex of the V-berth, nor the clanking and clattering that continues through the night in a large marina when the wind picks up. We'd been in our stable bed with a spring mattress and over-sized comforter for too long. We wanted to spend spring break officially "de-winterizing" and taking Quagmire out for a good hearty spin or two around the bay and up the river. In the back of both of our minds – where we keep our rational thoughts – both of us were pondering what we might get for her with a little spit and polish and weighing whether it was worth investing in moorage and maintenance for much longer, both of us now being students and all.
11 AM – Finished our cream of wheat and pulled out the dodger from it's protected stowage to subject it back to the elements so that we wouldn't have to be subjected to them ourselves. We debated whether it was going to be worth taking it back down at the end of the trip to protect it or if we'd really be back frequently enough to make use of it now that we had just moved an hour inland to be closer to school.
11:15 AM – Stepped back to admire last year's handiwork putting together a new dodger. It was as beautiful as we remembered.
11:30 AM – Pulled out the new mainsail which we'd gone through so much trouble fitting and designing last summer to wrestle it onto the boom for one more fitting. A breeze started to pick up because we were so late, but the sail went up easier than we remembered in the 25-knot gusts of last summer.
11:50 AM – The sail looked pretty good. We are finally willing to call it finished, and by now were getting anxious to take Quagmire out.
12:15 PM – Opened the sea cocks, checked the bilge, checked the engine fuel, oil, and coolant. Went through the checklist. Flares – not expired for another year – check. Fire Extinguishers – full and primed – check. Radio, PFDs…
12:40 PM – The good cruisers that we are, we stopped for a lunch break, ran to the bathrooms, and bundled up before we untied a single dock line or touched shore power.
2:00 PM – Like good consistent Pacific Northwest sailing weather, the rain started just as we pulled out of the slip. But, lo! We were sitting pretty and dry under the dodger on our new seat cushions!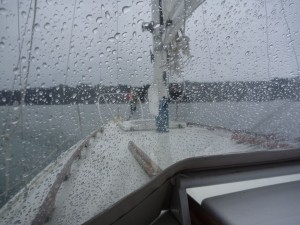 2:10 PM – I grudgingly left the comfort of our new cockpit paradise to bring in the fenders, then took the tiller while Jed graciously volunteered to raise the mainsail.
2:20 PM – I kept steering us into irons because this new sail is so darn efficient and it holds shape when you point too high so it's hard to tell when you end up in irons. We're enjoying complaining about silly things like this in sarcastic tones. Sitting in the cockpit, dry as daisies with our fancy new sail, it feels a bit like whining that we won a new sweepstakes car, but it was blue instead of red. Thinking back on our old torn and tattered mainsail and exposed cockpit, we decided that we could get used to this new life.
2:40 PM – The boat heeled over and it took me a second to figure out why. Since I no longer feel the rain down my neck nor each gust of wind on my cheeks, I almost forgot we were out sailing. I need to start picking up on some of the indications of weather other than how bad my hands hurt from the cold and the sounds of my teeth chattering. Another adjustment I'm happy to make.
2:50 PM – I had to go down below to change the song on the radio that Jed hooked up last summer because it didn't quite match our mood. Note: work on getting a waterproof remote control for the cockpit.
3:10 PM – Jed brought up warm hot cocoa.
3:45 PM – Further up river where it is so protected from the wind, we had to drop sail and resort to motoring. In the gray fog and mist, it was very quiet other than the droning of our little diesel which Jed has begun affectionately referring to as our little dinosaur killer. There were no fishing boats, and there was very little activity on shore. It looks and feels a bit like some of the rivers and channels we explored up around Vancouver Island – we kept waiting for a sea otter to pop up, or to see the black bears scavenging on the beach.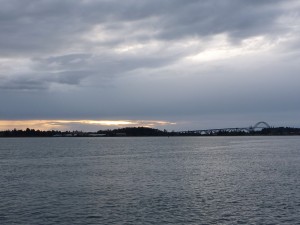 4:45 PM – No sea otters or bears, but we did spot a harbor seal. We made it a bend or two shy of Toledo and decided to head back around to watch the sunset behind the Yaquina Bay Bridge.
8:00 PM – Back at the marina we sipped red wine with our neighbor, enjoyed the sunset, and each committed quietly to ourselves that we're not ready to let Quagmire go. I wouldn't call her luxurious, but we'd at least like to relish in all we have accomplished over this last half a decade.